This week Ron Leavitt, Au.D and Carol Flexer, Ph.D are presenting our research findings at the International Conference of the American Speech Language and Hearing Association in Orlando, Florida.
Our findings on the objective and subjective variables of patients at Corvallis Hearing Center who have scored like normal hearing people on a very difficult speech in noise test while wearing their hearing aids is our topic.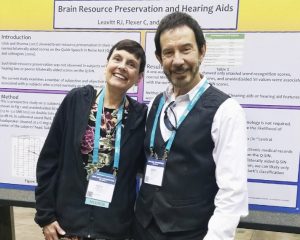 Our research is based on earlier observations showing brain function is preserved in patients who score normally while wearing their hearing aids on this same speech in noise test.
Unfortunately this earlier research showed that people with untreated hearing loss or poorer aided scores on this test showed alterations in brain function that may help explain the strong relationship between hearing loss and dementia.
At our
December 12th
Better Hearing Seminar at Corvallis Good Samaritan Hospital we will review new research just published by our colleagues in Australia who have also been looking at these objective and subjective variables associated with normal scores on speech in noise tests.
Both our research and that of our Australian colleagues suggest some alterations of clinical practices that may enhance the likelihood of achieving these normal scores on aided speech in noise tests and allow hearing aid wearers to function much better in noisy environments.
There is no charge, free refreshments are served and the public is welcome.